6 Tips to Make Redesigning Your Kitchen Easier
Pre-Remodel Planning Saves Time and Money in the Long Run
© 2012 by Ryan Hirst; All rights reserved; content may not be copied, rewritten, or republished without author's written permission.
There's no doubt that the kitchen has become the hub of most households; it is no longer just a room for preparing food. With the move towards open plan living and the growing interest in cooking and eating as a pastime, the kitchen serves multi-purposes in the modern home.
Families now enjoy dining and relaxing in the same area so that the kitchen has become a social as well as functional space.
If you're feeling that the task of redesigning this all important room could be a big task for you, there are plenty of expert kitchen planners available to offer advice.
They may just help with the planning or see the whole project through depending on your budget and wishes.
If you want to take on the whole job yourself, or can't afford to pay for expert advice, as many of us can't, here are some basic principles which should make the job of kitchen design a little easier.
Don't expect miracles. — The TV shows that transform whole houses during the course of a weekend may give us inspiration but they also raise expectations of what is feasible. Our advice — plan for the process to take 3 months rather than 3 weeks to complete.


What's your budget? — As well as the budget for the kitchen units, have a think about whether you can afford to consider making structural changes to the walls, or do you have to work with the space you have?

This is vital to planning the layout and overall purpose of your kitchen, as well as reflecting how many walls you have to fill with cupboards and workspace.


What style are you aiming for? — Think about how your kitchen will fit into the rest of your house &mdash If you live in a traditional Victorian terrace, do you want the kitchen to fit in with this style or to make a bold contrasting statement?

The colours and materials you choose will influence the style that you end up with so be aware of the effects from the start.

Wood and ceramic tiles for instance provide a more traditional look, whilst synthetics, chrome and granite tend to give a modern feel. The materials you choose for the work-tops, units, and fittings can make all the difference so think carefully before you decide.
Determine the shape of your kitchen area. — There are 4 common shapes when it comes to kitchen planning: The single line, L shaped, U shaped, and the island shape.

To help you decide which suits your space the best, you must take into account the doorways, windows and through traffic.
Be aware of the "kitchen triangle". — All kitchens need to contain 3 distinct areas: Preparation, cooking, and cleaning up.

Make sure you allow enough space to accommodate, ideally between 4 and 9 feet for each area. It's also important to make sure there is ease of movement between the areas.


Have a checklist. — There are so many things to think about when planning a new kitchen so make yourself a list including: storage units, work-tops, cooker and hood, hob, lighting, fixtures and fittings, flooring, appliances, and colour scheme.

Not only do you have to consider all these items but you also have to make sure they will live in harmony with each other.


It might seem overwhelming but take it step-by-step and don't cut corners. You'll be amazed what you can achieve.
About the author:
This article was provided by Ryan Hirst who writes helpful guides and tips for Eurofit Direct.
You Might Also be Interested in: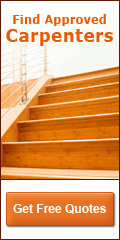 Return to the Interior project page
Article © 2012 Ryan Hirst; All rights reserved; content may not be copied, rewritten, or republished without author's written permission.
Website © 2012Kelly Smith All rights reserved; content may not be copied, rewritten, or republished without author's written permission. Author's Google profile